US $1,462.50 / piece US $1,950 / piece
COZING-T05 application:
Neuropathy ,Arthritis, Achy/Stiff Joints ,Neck & Back Injuries
Shoulder Pain ,Tennis Elbow ,Muscle & Ligament Tears
Knee & Hip Pain ,Triggers Points & Muscle Spasms
Sprains/Strains ,Carpal Tunnel Syndrome
Rotatory Cuff Tear ,Sciatica (Leg Pain)
Arch Pain Pain & Healing Following Surgery
Herniated Discs ,Foot/Ankle Arthritis , Plantar Fasciitis
Morton's Neuroma , Ankle Sprains ,Achilles Tendinitis
Shin Splints ,Poor Circulation ,Stress Fractures
Bunion Pain ,Nerve Pain ,Non-healing Wounds
Diminish the inflammation and pain management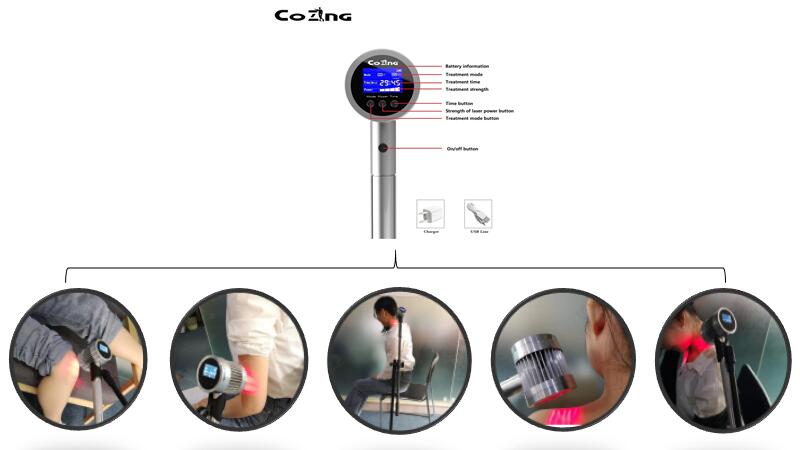 What is the COZING-T05 advantages?
#100% Safe and Painless and Effective:
Security and stability of home laser as well as the exact effect of medical laser. The treatment process is painless and harmless, non-invasive, no trauma, 100% safe. Laser therapy delivers non-thermal (non-heat) photons of light to the body to help heal injured cells.
#Low-Level Cold Laser Therapy
A perfect combination of medical laser 808nm and home laser 650nm will have better curative effect for body pain relief. this Laser which is the best for the treatment of humans and animals.
#Cold Laser Therapy Advantages:
Proven results for pain relief, inflammation, soft tissue, and skin injury therapy. Natural healing, non-invasive, no side effects and no cross infection.
#Multi functional, Portable, and Rechargeable:
Suitable for both Professional, Personal and Animal use; Pets, Dogs Horses. Total maximum power of 1200mW.
For questions on our medical supplies, equipment, or accessories, contact us here by this link